Maar liefst 221 tracks staan er op de stemlijst van de #NNL2015 dé jaarlijst van de Noord Nederlandse popmuziek bij @EchtErik.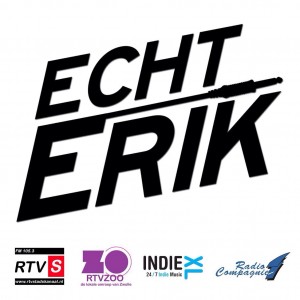 En jullie kunnen meehelpen deze jaarlijst samen te stellen.
Kies uit onderstaande tracks en stuur jou favorite top 3 naar
Luister in de week van 13 december naar Echt Erik. op Radio Compagnie
Degene die de nummer 1 juist voorspelt wint alle 20 tracks uit de NNL jaarlijst 2015.
Heb jij een Noord Nederlandse track uit 2015 die niet in deze lijst staat. Voeg het dan gerust toe door dat ook te mailen naar echterik@gmail.com.
En zie ook: https://www.facebook.com/EchtErik/posts/916449148436094
99Zero – Waiting for the Morning Sky
99Zero – Feel Alive
A Liquid Landscape – Paige
Abbeye – Misfits
Abbeye – Doe Niet Moeilijk
Abdomen – I Belong Down
Abdomen – Rewind me
Alex Julius featuring the Chaplains – Dirty Road
Ambivalenz – EchtErik guestmix 16-01
Animal Antics – NUMBER
Animal Antics – Sober Daylight
Anne-Lie Persson – Earthquake
Anne-Lie Persson – Humanity
Anne-Lie Persson – The beat of the Drum
Aphranova – Latebloomer
Aphranova- Setbacks
Ardan van de Graaf – Starry Night
Ardan van de Graaf – My Love
Arjan Sturing – Save You
Armand Wijskamp – The Break You Need
Art of Bridges – Something Crazy
Aspen Gems – Nothing More Than This
Audio Adam Strong enough
Auke Tjibbe Friesland is kut (zonder Tjibbe)
Avery Plains A Word Is Not a Word
Avery Plains I Will Cross This Road Again
Avery Plains Nothing Short of Scandal
Bells Of Youth Lovers ( J'lectroniq Remix)
Bert Hadders en de Nozems – Leesmap
BlackboxRed Beak
BlackboxRed Ghost Limb
BlackboxRed Hollow
BlackboxRed & Maask Born Free (M.I.A)
The Blind Roofers Lemons
Broken Benn Ready
Brückenbauer Softtop
Bufu Sanna -Music to my Soul
Change Direction Change Direction
Corvus Straksmetal Get Off Your Sleazy Ass
Cutting Grass Black Candle
Cutting Grass We Will All Fall
Cutting Grass When the war is over
Daan van Beijeren Words
Daniel Cane & The Rebellion – Exit Strategy
DASH Between Desires
David and the Dutchmen – Geordie Bird
De Meisjes Niemand Heeft Door
De Staat ( RocknRolla Soundsystem Edit) – Input Source Select
Despair System – So Wrong
Dicky & Steven Gilbers Music – Don't Rush Me N
Dope D.O.D. – Dirt Dogs
Dr. Drips – Leading to…
Drico – Strijd feat. Rengtebeng
Duroc – All This Time
Duroc Laundry
Duroc Lost
Electric Eva – Midnight Queen
Eminent Sol ft. Heliophile – Schadenfreude (leedvermaak mix)
Fenn – Good Morning (live)
flark – Torx Head Bolt
Grinner Down the Shake
Grinner Old Men
Han Kruize – Howl
Hans Hannemann Rodeo Clown
Hans van Lier and the Sidekicks – Shiver
Harry van Lier LOVE ME NOW
Heim Muziek The Way Out
Heim Unlock Me
Heliophile Towers so Tall
Herman Grimme Avatar
Herman Grimme The Big House
I Took Your Name Ft. Alain Fournier – You faded like a Staron on the Late Show
Icky Pack Parasitical Blues
Jan Bresters Everett
Jasper Staal Music – Higher Ft. Beatsofreen
JerkBait Don't wanna be a fool
J'lectroniq – Vamoose
Joost Dijkema – News from the sweet water
Joris J Mellema – Sunglasses Sunday
Kerwin Waves
KIN Passing car
Kraantje Pappie Axel Tigertears
Kraantje Pappie Funky Ass Shit
Leslie Anthony Love as big as the universe
LGHTNNG One night away
LGHTNNG Sharks
@Luitzen Depth
Luitzen & Typemismatch Beslecht
Magnetic Spacemen Day in Class
MakeBelieve Bittersweet
MakeBelieve Cry Like Wolves
Mansell Approve
Marcel Davids My Secret
Maria Mengerink Sofie
Maria Mengerink Gates of heaven
Mary Confurius Dead Horse
Menhir Hiding in Light
Mental Shark Bite Innocence and lollipops
Mercy & Malice Into the Sunset
MinIsTrY of MUDD Allright
Ministry of Mudd Stone Cold Fuzz
Model Depose Papercut
Model Depose Particles
@Mongoose x Tantu Boomtrap
Mr. Memoir & Drico Rendevous
Mr magoo artist/producer State of mind
Mr. Magoo & The Hanged One Calling
Mr. Magoo ft. Bigman Obscure Revolution
My Friend Television One more day
Nevelia There Is No Music Here
Nevillia Dysthymia
New Red Fading Emphasize
New Red Fading Euphoria
Nowadays NL Freedom Will Be Mine
Nowadays Who We Are
O-Bat Nazi Scum
Obat Time To Go (Monsanto)
O-bat La Stella Morta
O-BAT PLASTIC
Orange Fox Feel it
Orange Fox Secrets
Orange Fox Yours Truly
Orange Fox Fire It Up
Orange Skyline All For You
Orange Skyline I Don't Mind
Orange Skyline Rapture
POLICAy Maestro ( Fre4knc Remix)
Qareen Make It Bounce
RadiusRock Better Say Nothing
Rebecca Jager Music We can go any further (demo)
Redwood Club old man
Redwood Club Play it loud
Redwood Club Wait up
@Rik Baptist Make it Rain
Robin IJzerman Music Whatever
Rosa Sky C'est Ça que je trouve
Rosa Sky The fisherman
Rosa Sky White Electric Wizard
@Rotten Pear Call me
RUM&SKUNK Gewoon mij (prod. Drico)
Rum&Skunk hoge pieken diepe dalen
Running Late The Bar
Santa Fé APNEU
Santa Fé JELLYBEAN
SANTA FE No Sleep
Santa Fe OH MY
SANTA FE Superfly
Santa Fe Unkown
Sascha Elisah The Last One (single)
Savannah Music The Missing Song
Sheepskin Wolves The Storm
Sketchy Songs on Saturday – Jobbe Holtes Something To Hold On To
Skodiacs Say you will
Smiley Virus Houses Made of Building Blocks
Sofia Dragt ft. Snoet & Smoel Headquarters Born In The Flames
solitary ZEBRA Icarus
Solitary Zebra Lights
Solitary Zebra Sensual
Sporadisch No Way of Knowing
Sporadisch Clusterfunk (Original Mix)
Sprokkelhout Common Moments
Sprokkelhout The Joker
Sprokkelhout The Spectator
Sprokkelhout When Everything Repeats
Stevie Wonder (RocknRolla Soundsystem Edit) – Superstition
Sunday Kids Being Free
Sväva Labyrinth
Sväva Here Comes The Summer
Swinder Vekaanzie
Sytse Sneekweek Een leven is niet genoeg
Ten Years Today Alright
The Black Cult Find a way
The Black Cult On my Own
The Cool Quest Shine ( Snoet & Smoel remix)
The Doots Call It A Night
The Gunshow Living this Way
The Information I Foresee Trouble
The Information Your Praying Is Idle
The Mandrills How It Goes
The Movement Fly away
The Rising Sun One Day
The Rising Sun Home
The Tightropes SUPERSONICFOCUS
The Tightropes Your 18th birthday
Timo de Jong This is me
Those Attic Sounds Silversun
Those Attic Sounds Thankful
Those Attic Sounds wait
Tied Laces I'll Wait
The Tiger Lovemachine NO HEART FEELINGS
Tim Tells Brother
Timo de Jong Storm Tonight
Tjibs Tjibbe Tjibbeling – Niels Kooistra È mè ù
Tom Kootstra Enough
Toycar Taxi Opinions
Toycar Taxi Pictures
Transfolmer Longhorn
traumahelikopter Get it right
Tricklebolt Sex
Triple Mud Sundae Now i'm too beautiful to be set free
Uhgah Wugah Run Rabbit Run
Vanderlinde In one day
Vanderlinde KATIE LEE
VENcE Sentimental Flaw
Vera's Charm Infinite Insomnia
Vera's Charm Remorse
View for a Day Brighter Day
View for a Day Bridges
Vikings in Tibet Castles in the Sky
Vikings in Tibet White Room
Vox Von Braun Gamma
Wandering Fire Low
We Fall Slowly Do You Wanna
We Fall Slowly Right Here
Werner Wierenga – You got me singin'the blues
Wessel Klooster Don't start thinking
Whipster Forlorn
Wilhelmfreddie Portable Garbo
Wilhelmfreddie Watching Emmy Hirsch
Heb jij een Noord Nederlandse track uit 2015 die niet in deze lijst staat. Voeg het dan gerust toe door op dit bericht te antwoorden, of mail naar echterik@gmail.com.